Annunciati dettagli delle prossime missioni di servizio in orbita di Northrop Grumman
Dopo le due missioni dei MEV, il 2024 vedrà il lancio del primo Mission Robotic Vehicle (MRV) di Northrop Grumman. Al contrario dei suoi due predecessori, però, il veicolo orbitale non si aggancerà ad un satellite privo di carburante per ripristinarne la capacità di manovra. In questo caso, grazie ad un braccio robotico sviluppato dal U.S. Naval Research Laboratory e finanziato dalla DARPA, l'MRV installerà un Mission Extension Pods (MEP) al satellite cliente. I MEP non sono altro che dei motori che permettono ad un satellite di 2 tonnellate di tornare ad operare per 6 anni.
Il primo MRV volerà a bordo di un Falcon9 della SpaceX e sarà accompagnato da 3 MEP. Il primo cliente che Northrop Grumman andrà a servire è l'australiana Optus, ma anche gli altri due propulsori sono già stati prenotati. In realtà l'azienda americana ha confermato di avere un manifesto pieno fino a metà 2026, con un totale di 6 MEP venduti (compreso quello per Optus). Esauriti i primi 3 MEP ne verranno lanciati altri durante le missioni successive, che verranno ritirati direttamente in orbita dal MRV. In totale, nella vita operativa di un MRV, Northrop Grumman ha stimato di poter installare 30 MEP.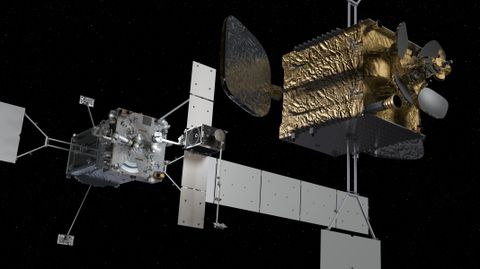 SpaceLogistics Announces Launch Agreement with SpaceX and First Mission Extension Pod Contract with Optus
DULLES, Va. – Feb. 21, 2022 – Northrop Grumman Corporation's (NYSE: NOC) SpaceLogistics today announced a launch agreement for its Mission Robotic Vehicle (MRV) spacecraft, and the sale of its first Mission Extension Pod (MEP). Under the launch…
---
Se hai trovato interessante questa notizia, iscriviti alla newsletter settimanale Rendezvous!


Ogni domenica riceverai comodamente tutte le novità della settimana.
Iscrivendoti accetti le condizioni generali e la politica sulla privacy di Revue e accetti che Rendezvous riceva il tuo indirizzo email.
---